"Once a new technology rolls over you, if you're not part of the steamroller, you're part of the road."
Stewart Brand
Technology is augmenting pre-existing business models, new technologies, Technology makes it possible for anyone to own a business,
Tech environment help economies move forward by building jobs and wealth. A blooming ecosystem helps developers to connect. They share stories about how to overcome issues they may be facing. Economic theories consider an evolutionary view of technological change and economic growth. Analyzing that vision of change and evolution of Technology, let's emphasize its main characteristics:
Technology means, by definition, uncertainty, and insecurity
.
Technology is dynamic. It changes and constantly improves. New varieties and new options appear persistently. Technological change is systemic. Technology doesn't occur without any change in the ecosystem. New technologies emerge at once with the structure to manage and disburse them. The car needed highways and petrol pumps. The Internet has emerged with the fiber infrastructure. Nonetheless, that technological interdependence means that significant changes are slow and costly.
As per the idea of an evolving change in the Technology, growth provides better products, and are used to build the next generation of products. One can expect runaway technological evolution in the future, resulting in incomprehensible modifications to human civilization.
The global economy is surveyed to grow 3% per annum and double by 2038 to $150 trillion per year. If technology keeps on exploding, touching the 8% figure, then evolutionary technology sectors will be hitting $12 trillion in revenue in 2038, $10.4 trillion being net new revenue from today.
Growing adoption of new technologies directing to rising in startups
Nowadays, the adoption line of new technologies is practically vertical. Modernizations and technologies are rapidly introduced into the market and accepted by society. The time it takes for new Technology to reach mainstream adoption is accelerating exponentially, to the point in the future where new Technology can have more than 50% market penetration in few years, whereas before, it takes decades.
This is significant future growth for technology that indicates a very bright future for technology businesses, especially technology startups. We can also check by another perspective – the valuation of the companies responsible for the disturbance. Today we face a high rate of technology adoption. Other than this, the boost in new technologies is evolving over time. New disruptive recommendations appear constantly. A compelling division of the technology products that will build the $12 trillion in global annual GDP 20 years in the future likely doesn't exist yet.
By addition, a startup consider risk and velocity. Whereas, a traditional company doesn't like these two elements. Startups are thus the basic drivers of risk and velocity.
Role of startups in technological transformation
Startups offer disturbance based on the constant search for opportunities. Few of the technological future will also come from large businesses, but by and large, these large businesses still haven't figured out how to accurately create upsetting innovation.
A strong implication that we are in the middle of the transfering the baton between the industrial and information era is the recent breakthrough reached in July 2016, where the world's five largest public companies by market capitalization were all technology companies – Google, Apple, Amazon, Microsoft, and Facebook.
The aspect of the large established companies in the innovation landscape is largely as acquirers, where they grow developed products, using their capacity for effectiveness and scale. Whereas traditional businesses also see startups as a way of modernization. Corporate undertaking today has been elongated and established. Secured companies define challenges for the new startups, also they try to buy them when the risk is out.
Startups are much better at new upsetting invention than large businesses. Both factors (more disruptions and reduced diffusion time) introduce enormous challenges in traditional companies. The introduction of latest Technology means the minimizing of existing businesses.
Large tech businesses have established a more concerted relationship with startups. Organizations like Apple, Amazon, and Microsoft have displayed strong competency over the last 5 to 10 years in creating complementary relationships with startups by offering platforms and infrastructure for them to build on. Seperation cycles are running up.
New startups are build each year, and they acquire money from investors to grow. Many startups fail (and they are asked today to forget quickly to avoid absorbing excessive resources). But in those cases, entrepreneurs and investors try again. Repetition and diversification are crucial elements in startup environments. In cases where there is a success, the effort is observed through exits. An essential part of the money from these exits goes back into the system. Growing entrepreneurs also create new businesses or turn themselves into investors. A startup ecosystem is economical for a city, country, or region.
It is also sensitive to see investing in the creation of startup environments not just as a creator of economic capital and job creation but also as a hedge towards the social security of the future.
How Tech Ecosystem can be define?
A tech ecosystem can be considered with five identifying features. This is uniform to the Financial Times' glossary guide. Represented by the platform's core components. Applications made by separate organizations complete them in the periphery offer solutions extensive system of use than the original platform owner constructed and manages a essential technical problem within an industry 
Easy to create upon the core solution. It allows to develop the system of use. Authorize new and unexpected end uses attached to a core firm's product. It is limited in value when used alone. Boosts substantially in value when used with the complementary applications 
include well-known smartphone platforms, such as Apple and Android, but typical in social media platforms. They exist in industrial sectors. These sectors have core products in software, assembling, or scientific machinery. These manage as semi-autonomous, value-added resellers.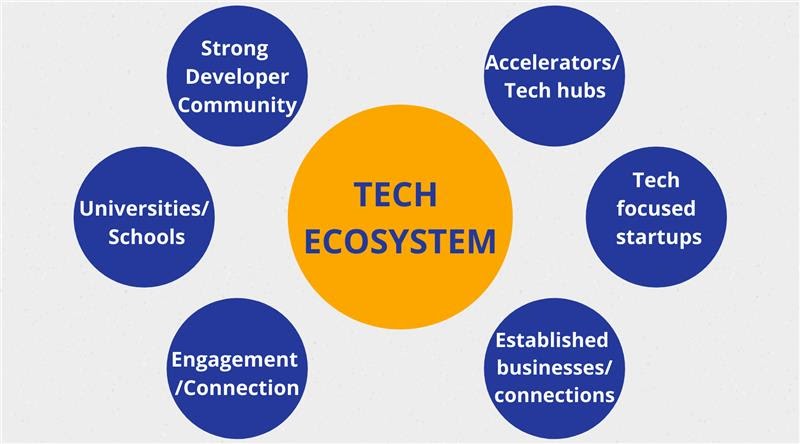 The term "Technology Ecosystem" can mean multiple things. 
If you Google it, you will come across multiple purposes: it can describe a tech scene in a physical location, like London or San Francisco. A technology ecosystem is also the collection of tech solutions that a specific company uses to run its business. It is about how these solutions connect.
This is the explanation we will be working with here. 
There is a condition we call it an ecosystem, as opposed to just a "collection of apps" or "app stack," for example. This is because the term "ecosystem" explains what tools you are using and how they combine with one another. That same principle can be applicable to your technology ecosystem, the key is to figure out how all the fundamentals work together. 
The utmost successful technology environments are unified in real-time, offering you to build more functionalities onto your core tools and expand their uses. As an example, let us communicate you run an online pet supplies store. You sell pet food, treats, accessories, cat litter, dog harnesses, and more.
It help if you likely had an eCommerce tool to run your business. You should have a payment portal to process customer payments and an accounting tool to keep track of your business finances. There should also be an email marketing app to send out newsletters and a CRM tool as a database for your customer data. The list goes on.
What are the Key Technology Focus Areas
It is essential to keep moving beyond conventional tactics to reshape, rethink and reimagine business models and use technology as a disruptive market force if you want to stay ahead of the game or rather stay relevant in the game at all.
Organizations have to move from the traditional thinking of their span of control, and the tactics focusing only on – Front-office to back-office.
The cycle of influence today means that your customers could essentially be anywhere in the world, hence, your channels to reach and service them can't be traditional.
Business models are themselves getting up-ende with concepts such as:
Heavily personalized customer experience on the back of technologies like AI, ML, Analytics

Asset sharing on the back of extremely scalable platforms, whether in terms of fixed assets or financial assets

Coarse offerings and, thus, pricing models (e.g., I don't want to pay for what I don't use)

Front office: chatbots, AI, ML, Analytics

Back office: asset sharing platform, 3D printing.

Top floor: Analytics, decision making

Shopfloor: Sensors, IIOT, smart plants, robotics, machine learning, 3D printing

Granular offerings and, therefore, pricing models (example I don't want to pay for what I don't use)

Heavily personalized customer experience on the back of technologies like AI, ML, Analytics

Asset sharing on the back of hugely scalable platforms, whether in terms of fixed assets or financial assets

Back office: asset sharing platform, 3D printing.

Top floor: Analytics, decision making

Shopfloor: Sensors, IIOT, intelligent plants, robotics, machine learning, 3D printing

Front office: chatbots, AI, ML, Analytics
What are the Tips For Entrepreneurs To Leverage upcoming Tech
Nowadays, Startups have the advantage of being elegant to change procedures and upset the industry because they are more comfortable with letting technology overlook established businesses who are still evolving the ropes. Hence, it is easier for startups to create technology-run organizations.
to do that, keep the following in note:
We need to constant unlearn and learn the newest tech having implications on the business model

Require to acknowledge the new tech in your enterprise.

Eagerness to look at innovative demolition of existing structures and technologies.

Recruit and create a team with complementary tech skills
Start by building a small, focused cell within your organization tasked with determining potential evolving technology. The head of this cell should think like an entrepreneur operating his startup within your startup. Let it to branch out on its own instead of looking to bring it back in.
This can bloom as an alternate revenue stream for your business too. You will have your team members line up to pay for this service which allows them stay updated on new technology and its application in their business model.
What are the Role Of a Peer-To-Peer Platform 
In the Peer-to-peer platforms serve as an excellent platform for entrepreneurs to keep in communication with the differences that embrace not just theirs but also a large part of the business environment.
As per the concept of "Trust Groups", entrepreneurs have the opportunity to think extensively and grasp technology and business models that may have worked in a different industry and see if there are components that can be advantage for themselves.
In our case, ASCENT Foundation has offered us recognize the latest security challenges and arrangre advance solutions to help our businesses customers beat dangers in their environment.
In the article "How is Technology Beneficial for your Startups to Evolve?" , Through multiple conversations around all aspects of businesses, entrepreneurs can identify core challenges that might affect their professional and personal growth. With the support of the "Trust Group" members, they can remember these problems and find a practical solution to address these challenges.
Startxlabs, one of India's top digital transformation service providers. Launched in 2014, Startxlabs aims in innovating a digital future by developing technology for the web and mobile platforms. From our beginning as a technology development company, we've tried to stay true to our core beliefs and to deliver exceptional services to our clients. Whether it's people we work for or people who work for us, we value honesty, passion, and the desire to explore. We have expertise in website development, android app development, iOS app development, Flutter, React Native app development, UI/UX design, and marketing strategy. With the engagement of our highly technical team, we have delivered over 110+ projects providing a positive impact on the users.